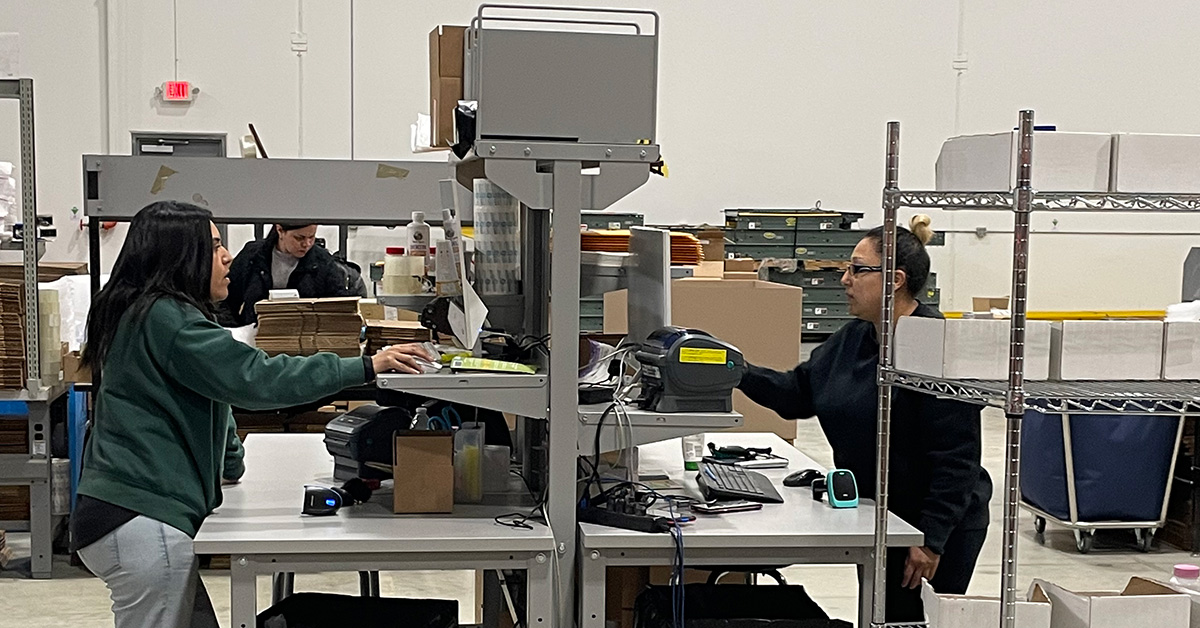 A Guide to OMS and WMS Integration: How These Systems Work Together
To gain even the slightest edge in today's competitive e-commerce marketplace, retailers and brands must scale their businesses with the right technology. In accomplishing that goal, companies must work closely with 3PL or third-party logistics partners to build fulfillment networks that can satisfy customers' needs for nearly instant gratification.
An integrated OMS (order management system) and WMS (warehouse management system) are crucial systems for growth-minded brands. In this guide, readers will learn more about OMS, WMS, and the importance of integration.
OMS: What Is It and What Does it Do?
An OMS or order management system is a platform that automates the order process from creation all the way through to delivery, streamlining operations and removing many of the challenges encountered in omnichannel environments. Functioning as an operational hub for retailers and brands, a connected OMS is crucial to their ability to automate processes. Among its numerous functions, an order management system automates order management, routing, listing management, inventory forecasts, and reports.
OMS Benefits
With more people staying home these days, e-commerce sales have reached a record high of almost $4.2 trillion. As spending increases, so do customers' expectations of a smooth, hassle-free shopping experience. Almost 70% of shoppers read multiple reviews before deciding on a purchase, and a slightly larger number expect consistency across marketing channels.
Order management systems help e-commerce retailers meet these demands by expediting order fulfillment and keeping an accurate record of inventory at every link in the supply chain. An OMS solution from a trusted e-commerce fulfillment partner offers a scalable and customizable way to track the frequency and speed of cross-channel orders, shortening delivery times and keeping customers satisfied.
Order Routing and Management
The main function of an order management system is to automate ordering, which reduces the need for manual interactions that may increase the risk of errors, delays, and fraud. Automation begins with connected sales channels, so all orders can be combined in one system to which rule sets may be applied. An OMS will provide order views in real-time, allowing users to see which stage they're in and reducing the need for interaction with fulfillment partners while eliminating redundancies. A connected OMS saves everyone money and time.
When integrated with a warehouse management system, an order management system intelligently routes orders to the closest warehouse, ensuring fast delivery at the lowest possible cost. WMS integration allows an OMS to update each warehouse's stock levels, thereby making it the primary source of up-to-date information for sales channels. With the combination of OMS and WMS, there's no risk of overselling.
Listing Management
While most OMS platforms lack built-in listing tools, effective systems connect to listing platforms seamlessly. When vendors list in multiple marketplaces, they can reach a wider customer base—and cross-channel consumers are exposed to new products from more than one angle.
Automated listing tools allow sellers to maintain consistency across multiple channels while allowing for the customization of content to fit each of those channels' standards. Manual processes carry a high risk of costly errors, but integrated tools from companies with fully developed e-commerce systems reduce that risk.
As a way for companies to increase brand recognition across marketplaces, order management systems serve as the hubs from which products are posted and removed. With an integrated OMS, brands can manage their online presence more efficiently.
Warehouse Management Systems
A WMS or warehouse management system is a platform on which vendors can track a warehouse's materials, goods, and operations. These systems are designed to oversee procedures and optimize processes.
Furthermore, WMS gives e-commerce retailers insights into their inventory, including items in transit and stored in warehouses. WMS is very flexible and can be customized to a company's requirements or products. For example, a seller of home goods may use a WMS with different features than a seller of automotive parts.
WMS Advantages
The purpose of a WMS is to keep materials and goods moving through warehouses smoothly, including tracking, putaway, receiving, picking, and packing. Additionally, WMS ensures that 3PLs keep orders accurate and operations efficient. Brands often count on WMS to:
Track components and goods in warehouses
Offer information on an order's progress through the supply chain
Handle returns quickly, allowing buyers to choose a method and track their refunds
Modify workflows and picking processes, which optimizes inventory allocation functions
While the best WMS can bring a company to new heights, it won't go very far without the right 3PL solution. Contact Your Logistics to learn how our fully developed systems can help your e-commerce business succeed.
WMS and OMS Make Predictions and Reports Easier
To stay competitive in today's competitive e-commerce market, brands need quick access to information on how they're performing, so they can make informed decisions. When fulfillment and sales channels are kept separate and no OMS is used, tracking KPIs (key performance indicators) becomes challenging and time-consuming.
When relevant data is kept in a central location, however, brands can easily analyze procedural obstacles, product profitability and performance across sales channels, and the cost of the products they've sold, among other crucial KPIs. One of the biggest benefits of aggregated sales data is that it allows an OMS to utilize historical production lead times and sales figures to predict inventory purchasing needs, minimizing overstock or out-of-stock situations while ensuring customers' satisfaction.
Count on Our Team for Logistics Help, Service, and Advice
For brands serviced by 3PLs, technology and partnerships are key predictors of success. With integrated WMS and OMS strategies, fulfillment providers and e-commerce retailers can effectively scale operations for continued growth.
The team at Your Logistics is ready to bring your business to a higher level. Our client-centric approach to 3PL ensures that your needs are our primary focus. If you have concerns, questions, or suggestions, we're just a call or click away.
Unlike other third-party logistics providers, we don't treat our clients like numbers—we treat them like partners. It's our goal to become a vital part of your business. If you're looking for a scalable, flexible 3PL solution, we're here to help. Contact us for additional details.