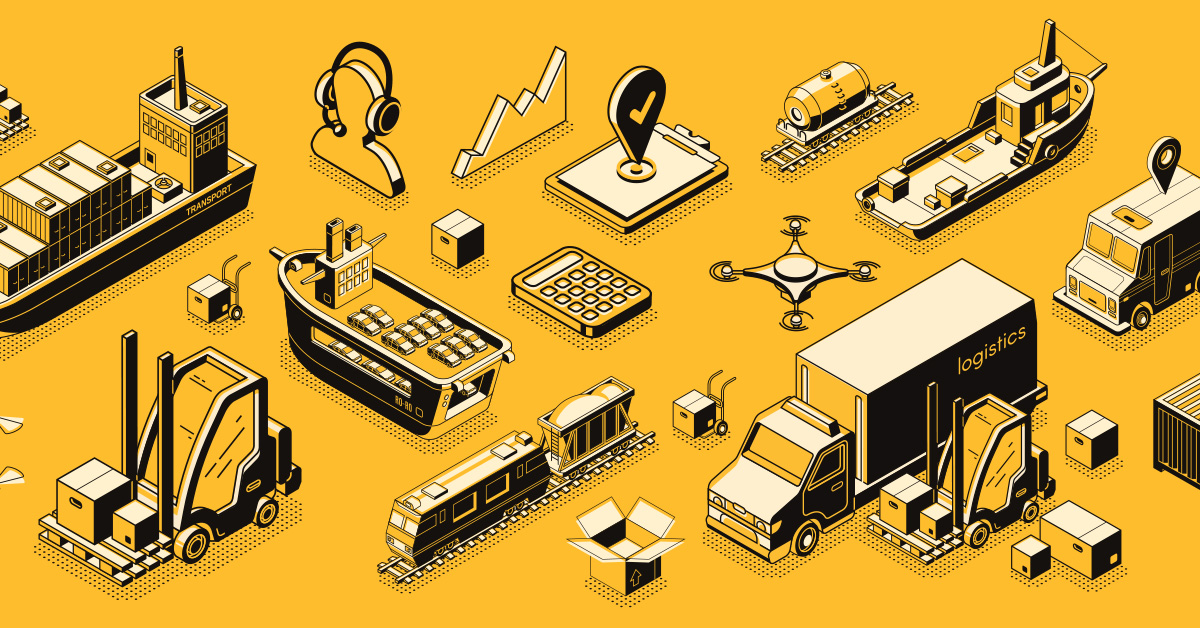 In this guide, we'll give you answers to key questions about order and fulfillment logistics.
For example, what is a 3PL? What are its benefits, and when should you consider partnering with one?
3PL Meaning
The term 3PL stands for third-party logistics. When you work with a 3PL company, you outsource your warehouse, fulfillment, and shipping administration to them. Many 3PL services will do inventory organization, supply chain management, and delivery monitoring at more affordable costs than in-house warehouses.
3PLs are best for small to medium businesses, unlike alternatives like 4PL companies. A 4PL will completely oversee the supply chain, while a 3PL focuses on manual logistics. These differences mean 3PLs are more affordable and let you have a personal role in managing quality standards.
3PL Services
There are many steps of the order process that a 3PL company can make more comfortable. Below, we'll look at key facts about 3PL distribution, shipping, and more.
Inventory Management
3PL services can provide technology that makes it easier to view your inventory. Instead of manually communicating with people in the warehouse, 3PLs can give you software to view live supply changes. It can also alert you when your stock is running low.
For example, Your Logistics offers a digital customer dashboard. There, you can view customer orders, inventory, and even returns from afar.
Order Fulfillment
One of the best parts of 3PL logistics is how much easier it is to manage high-volume orders with them. 3PL fulfillment centers have employees to track, kit, and label products for you. So, you can focus on core business functions instead of every single order.
You may wonder, how does 3PL shipping and distribution work?
First, the 3PL center receives your inventory. When the customer places their order on your eCommerce site, the 3PL staff begin picking their items and putting them in kits. Based on your agreement with the company, they can use different packing materials like branded boxes or poly bags to ship.
The 3PL company determines the combined weight of your items so they can lower it before shipping. With their expert insight, they can keep 3PL logistics costs much lower.
Finally, a carrier like USPS or UPS comes to pick up goods for shipping. And a tech-based company like ours will give you the tools to check order statuses at any time.
If a customer wants a return, 3PL companies typically handle this process, too.
Faster Shipping
Did you know that 77% of users will abandon an online order if the shipping cost is high? Even if you didn't, you'd be glad to know that 3PL logistics can lower the price.
3PL companies can have locations across different regions and countries. Having multiple centers means they can offer One or Two-Day Shipping options at lower prices. And when it costs less to send an item, you can more easily pass free shipping options down to your customers.
3PL distribution is also handy for making bulk orders more affordable. So if you are looking to send many items in B2B or retail deals, you might enjoy a 3PL company.
3PL Company Benefits
Some of the biggest reasons to work with a 3PL include: working with experts, customizable packaging, and scalable costs.
Working with Experts
As a growing business, you have plenty of teams to focus on. Marketing, customer service, product development, and more are on your mind. It can be taxing to try building new connections with new shipment and warehouse companies.
Thankfully, a 3PL already has all the connections to negotiate affordable packaging providers for you. Other concerns such as billing, auditing, and supply chain management training are also in their care.
Customizable Packaging
Marketing researchers at Ipsos found that 72% of Americans feel that packaging designs influence their purchases. Furthermore, 81% care about packaging when it comes to picking gifts.
So, the way you brand your packaging materials matter. Thankfully, 3PLs can put your branding labels and colors on the box. At Your Logistics, we'll personalize your shipment down to the last details to make your brand memorable.
Flexible Costs
Many warehouses require you to pay a flat rate for storing your inventory. On the other hand, a 3PL company can charge you based on how much space it takes up.
Whether your goods need climate control is another factor that changes 3PL storage costs. Regardless, that scalability is excellent so you don't underutilize resources or pay excess fees.
Should You Use a 3PL?
Some of the main signs that it's time to partner with a 3PL are your order volume and expansion. Both of these are great signs that your business is growing. While business growth is exciting, it can also be daunting. 3PL services can ease the transition by minimizing the following pain points.
You're Getting More Orders Than You Can Manage
As your business grows, you need to hire more staff. But looking for people to manage your warehouse can be tiring. It's a lengthy process to research, recruit, and interview the people who will fulfill your orders.
If this sounds like you, a 3PL can take the stress off your shoulders. Maybe you're running out of inventory quicker than you can track. 3PL companies already have the staff and technology on hand to start tracking it for you. Then, you can quickly check in with them on your customer dashboard.
You're Expanding to a New Region
If you're planning to sell your eCommerce goods internationally, 3PL distribution can make it seamless. Local 3PL companies already have personal connections with delivery companies and packaging to satisfy your needs.
Regional 3PL locations also improve customer services and deliveries. Because they understand local cultural traits and geography, they can adapt the delivery process to help customers seamlessly.
Working with 3PLs
There are many big 3PL companies available today. However, the best ones have a client-first approach. They should treat your business like a partnership and work hard to meet your specific requirements for success.
At Your Logistics, we provide 3PL centers to serve the Dallas and Las Vegas areas. Learn more about our services here, or request a free quote today.
Managing fulfillment logistics doesn't have to be hard. As your business grows, we are here to provide excellent 3PL services.