eCommerce Shipping Solutions
Your Logistics offers eCommerce shipping solutions to match consumer demands, which are growing faster than ever online.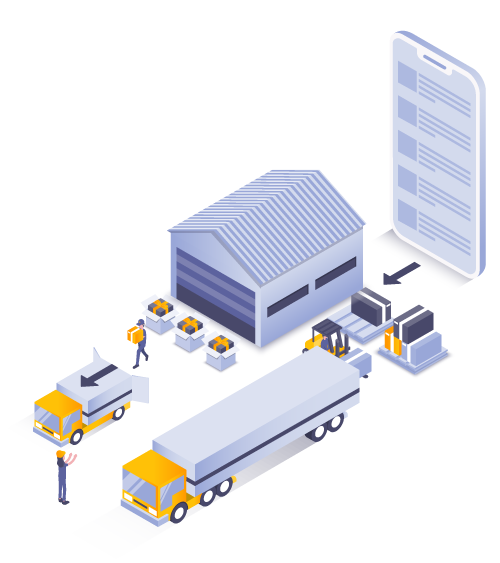 Let us help your eCommerce business grow.
Our eCommerce shipping solutions are Affordable, Personal, and Professional

Get Matching Shipping Solutions
Meet consumer demands as your business grows.

Increased Speed & Efficiency
Innovative, customizable shipping workflows.

Save Time & Money
Cost effective at maximum speed.
eCommerce Shipping Explained
The term eCommerce shipping refers to all of the services required in the transportation of products purchased from an online retailer to the consumer's destination of choice. While it can be challenging to find the right eCommerce shipping partner, this is crucial to running an online business seamlessly. Creating a lasting relationship makes shipping quick and affordable.
Finding or manufacturing and selling your products is challenging enough; don't let shipping throw a wrench in the entire operation. Through our effective eCommerce shipping management techniques, moving products has never been more straightforward and more cost-effective.
Third-party logistics, or 3PL, is one of the best shipping solutions for eCommerce. It involves the use of a third-party business that is responsible for the fulfillment services of the client - meet Your Logistics.
Here's how 3PL works:
An eCommerce business takes the orders from their consumers on their platform of choice

The eCommerce business delivers the orders to Your Logistics via an automated software connection

Your Logistics receives orders, pulls the inventory, packs everything per the requirements, and ships the order to the end customer.
Why is 3PL eCommerce Shipping Right for Me?
As a result of the ever-changing online shopping ecosystem, and more recently COVID-19, picking the right shipping solution for your eCommerce store has never been more critical. Choosing Your Logistics will help to diversify and alleviate some of the risks faced in dealing with single-source providers.
When Should I Consider a 3PL?
Streamlining the fulfillment process should be addressed immediately if growth is a goal of your eCommerce business. Waiting until the company is overwhelmed by orders is waiting too long and can ultimately damage the brand altogether.
Focus efforts on business growth, rather than being burdened by the shipping processes. When in doubt, rely on these three questions to determine whether or not it is an excellent time to consider a 3PL shipping solution for your eCommerce company:
Is your business fulfilling more than 10-20 orders each day?

Do you find yourself running out of storage space for inventory?

Does your current infrastructure (space, manpower, technology) have the capacity to handle your growing demand?
Don't be limited by inventory and shipping constraints. We are here to assist in refocusing attention towards the overall growth of the company.
Through the use of industry-leading software and workflows, Your Logistics offers eCommerce shipping solutions matched with a simple user experience. By using us, you can exceed customer delivery expectations and focus on customer relationships, product development, and business growth, instead.
Take a look at some of the service options available when partnering with Your Logistics.
What is the Best Ecommerce Shipping Solution?
Identifying the best eCommerce shipping management system depends entirely on the nature and demands of the business at an individual level. When making the decision, it is crucial to make sure to keep into consideration that the best eCommerce shipping solution should always offer:
Cost-effective and flexible shipping

Top of the line software

Innovative storage system

Returns management

Excellent customer service

Customization
If you are looking for the best of 3PLs, look no further. Your Logistics is your one-stop-shop for eCommerce shipping needs. Call us today for a free quote!