Game-Changing


eCommerce Fulfillment Services
Reliable fulfillment. State-of-the-art picking, packing, and shipping facilities. Convenient all-in-one 3PL eCommerce fulfillment services that save your business time and money.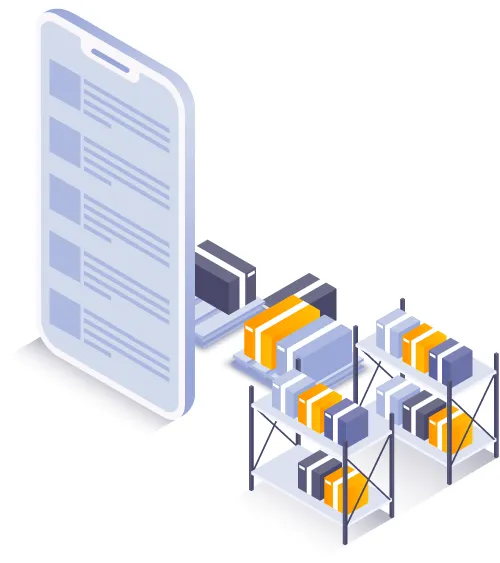 Let us help your eCommerce business grow.
Our eCommerce Fulfillment Services are Affordable, Personal, and Professional
Upgrade Your Business With The Best eCommerce Fulfillment Services
It's a fact that customers expect fast shipping. As the owner of an eCommerce business, the last thing you want is for your customers to wait days for their shipment from your online store only to open the box and find the wrong item. To avoid this, you can outsource your fulfillment service to a third-party logistics provider (3PL).
"58 percent (of customers that experienced a shipping delay in the last 6 months) said they have relayed their shipping delay difficulties to someone else or left a negative online review."
Here at Your Logistics Corp, we provide eCommerce fulfillment services so you can focus on your product and your customers. While handling your own fulfillment network may work well when you first begin your business, as your company grows, you'll want to use eCommerce third-party logistics. 

We Take Fulfillment Off Your Plate
So you don't have to worry about shipping.

Increased Speed & Efficiency
Efficient processing and shipping mean fewer errors and happier customers.

We Save You Time & Money
This allows you to focus on developing products and growing your business.
What Is an eCommerce fulfillment provider?
You might be hesitant to outsource work you're accustomed to doing yourself. However, running a successful business is about knowing how to delegate. 
A reputable fulfillment service takes care of the quality of your inventory, packaging, and shipping and handles spikes in order volume without compromising on order accuracy and delivery times.
eCommerce fulfillment Is Crucial for Your Online Store — And Your Bottom Line
It plays a major role in all eCommerce businesses. After all, without the proper packaging and shipping, the customer cannot receive what they purchased. Basically, without eCommerce fulfillment, there is no business and no revenue
It involves:
Managing inventory

Filling online orders
eCommerce fulfillment centers oversee all of these procedures. As the owner of an online business, trying to juggle a fulfillment network in addition to growing your business, marketing your products, and developing new inventory can mean a decline in packing and shipment quality.
Centers focus solely on the quality of inventory and packaging, the accuracy of orders, and the efficiency of shipping.
eCommerce fulfillment Services
Third-party logistics centers take care of your orders from processing to shipping to verifying delivery. Let's take a look at the primary services involved in the process.
All orders customers place on your eCommerce platform will go directly to our fulfillment service. From there, its system will process all information about the customer, their location, and their purchase.  
This is the first essential step in fulfillment services. Without quick and accurate processing, orders could slip through the cracks.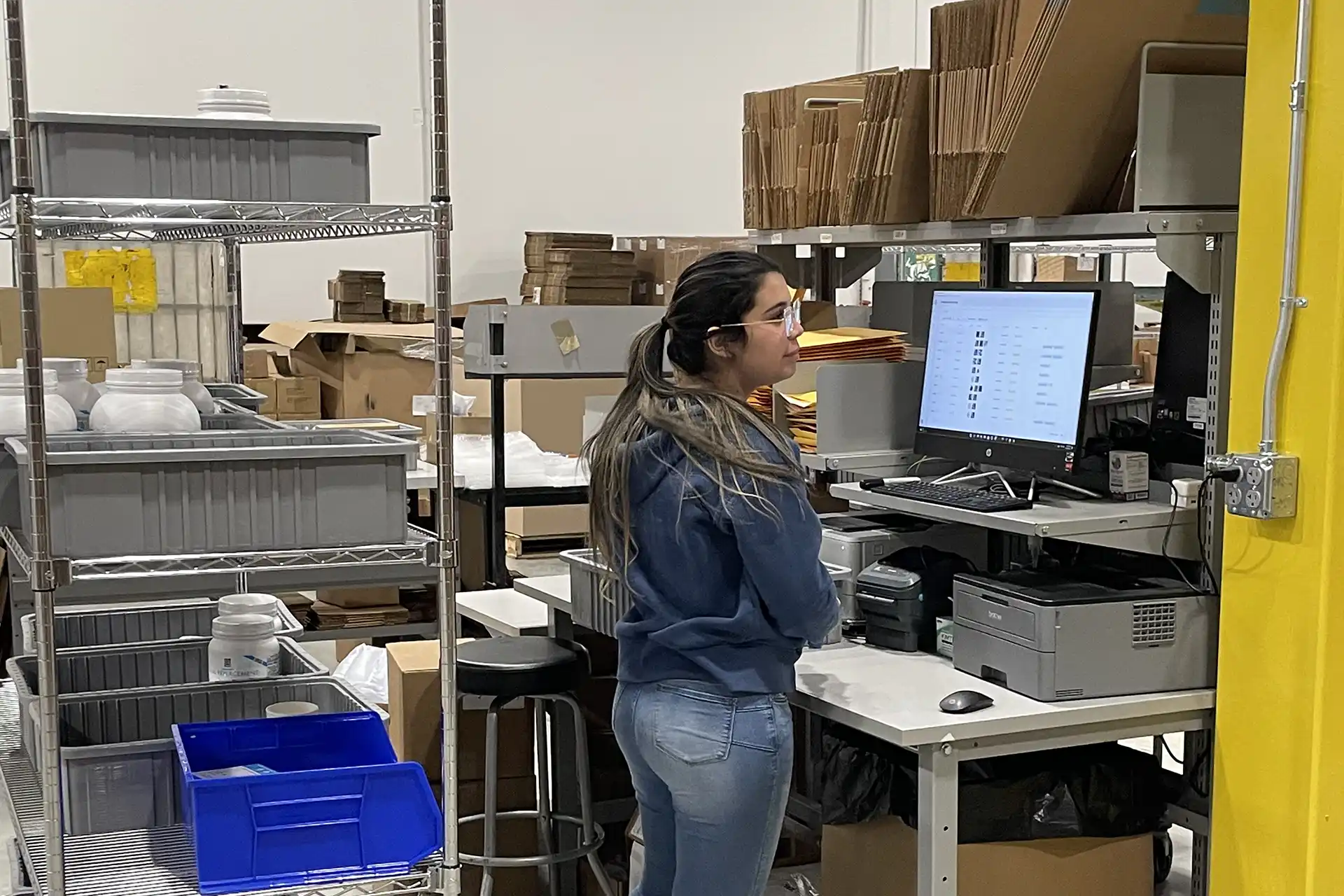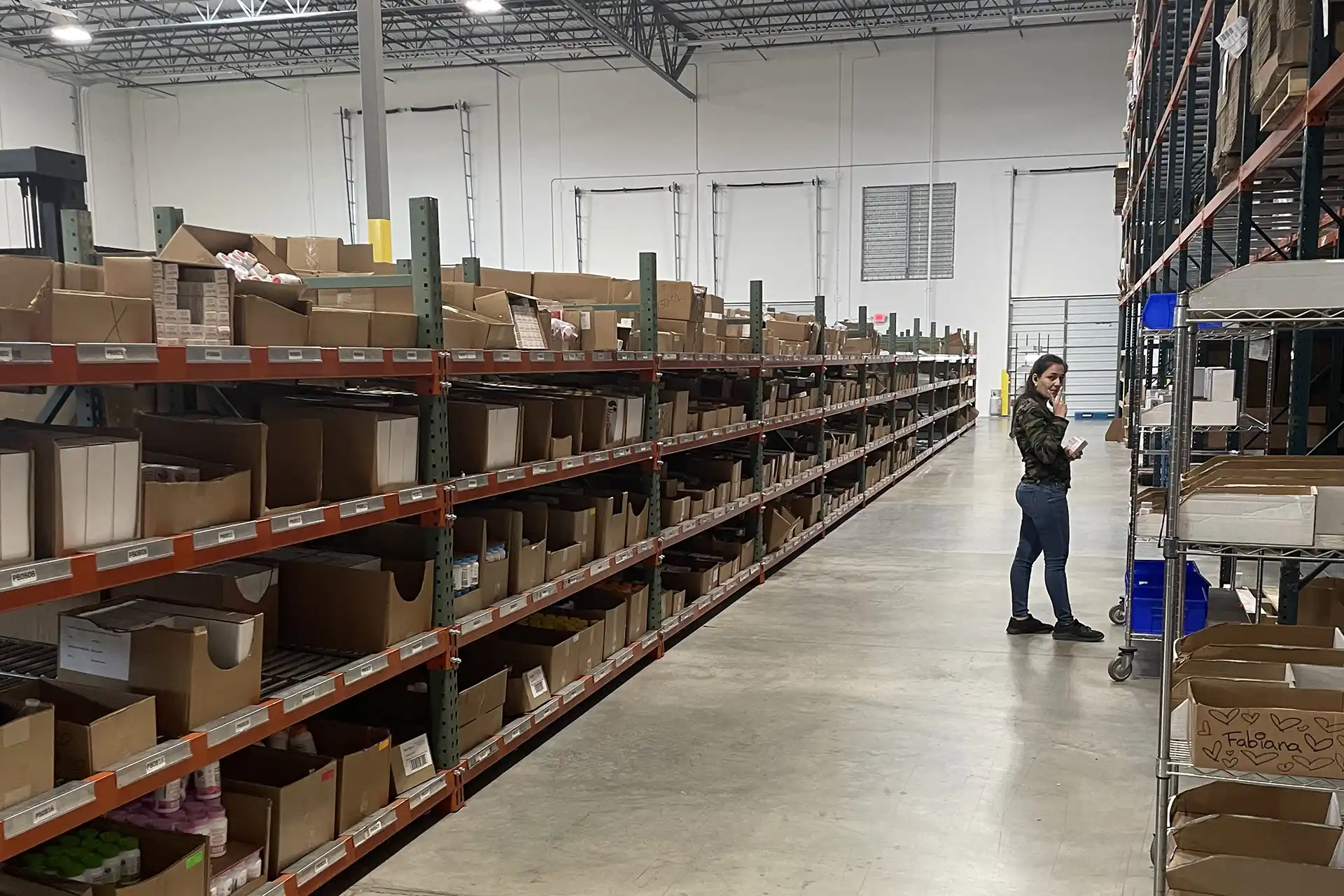 #2. Picking From Inventory
Next, the team verifies the product purchased from the customer, ensures its quality, and notifies the warehouse.
The warehouse is responsible for quality control, so it handles storing, picking, and handling of items with utmost care. 
#3. Packaging and Labeling
Sloppy packaging or mistakes on a label come off as unprofessional, which is the last impression you want to leave anyone with about your business.
The eCommerce fulfillment service ensures the accuracy of each label and the security of each package.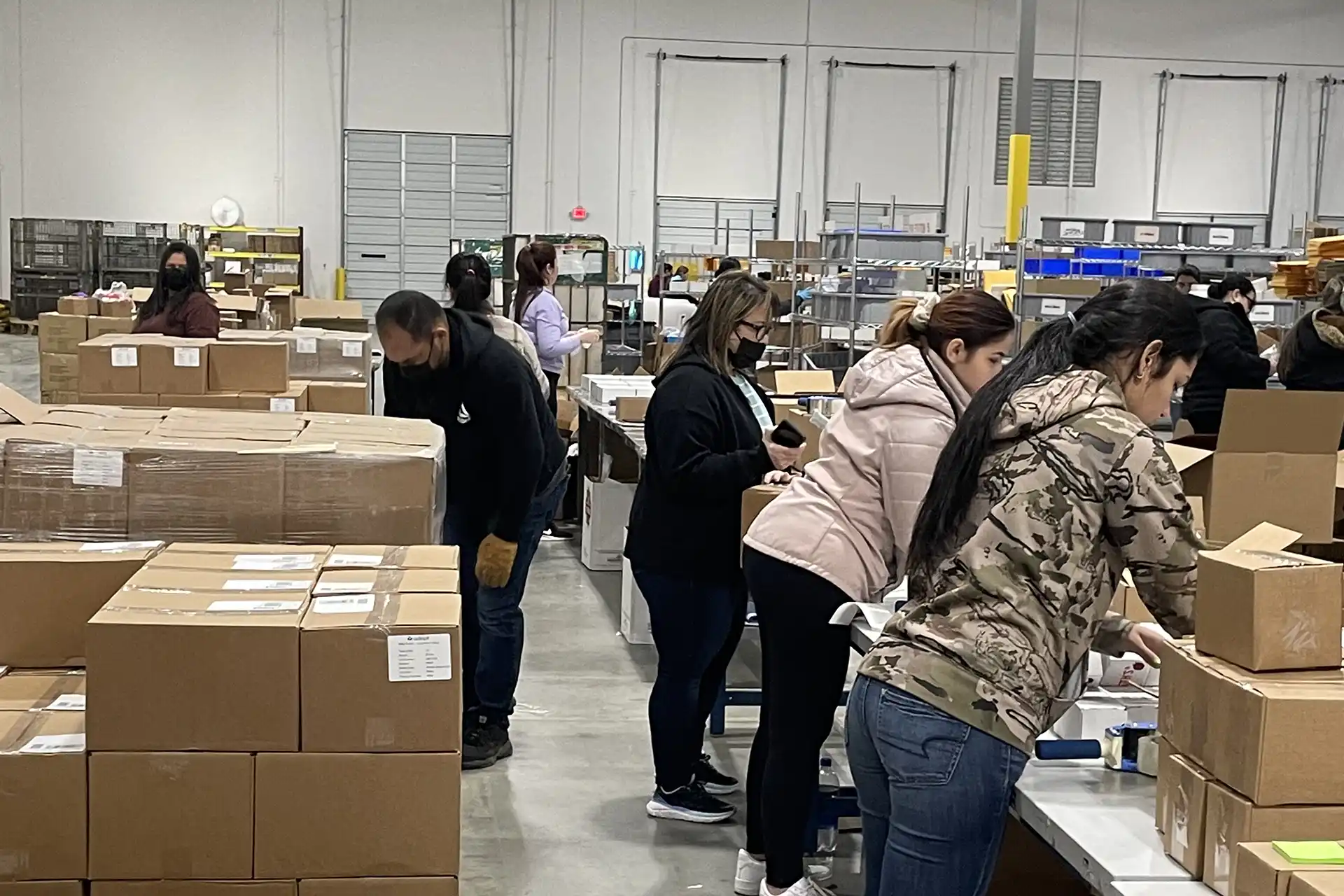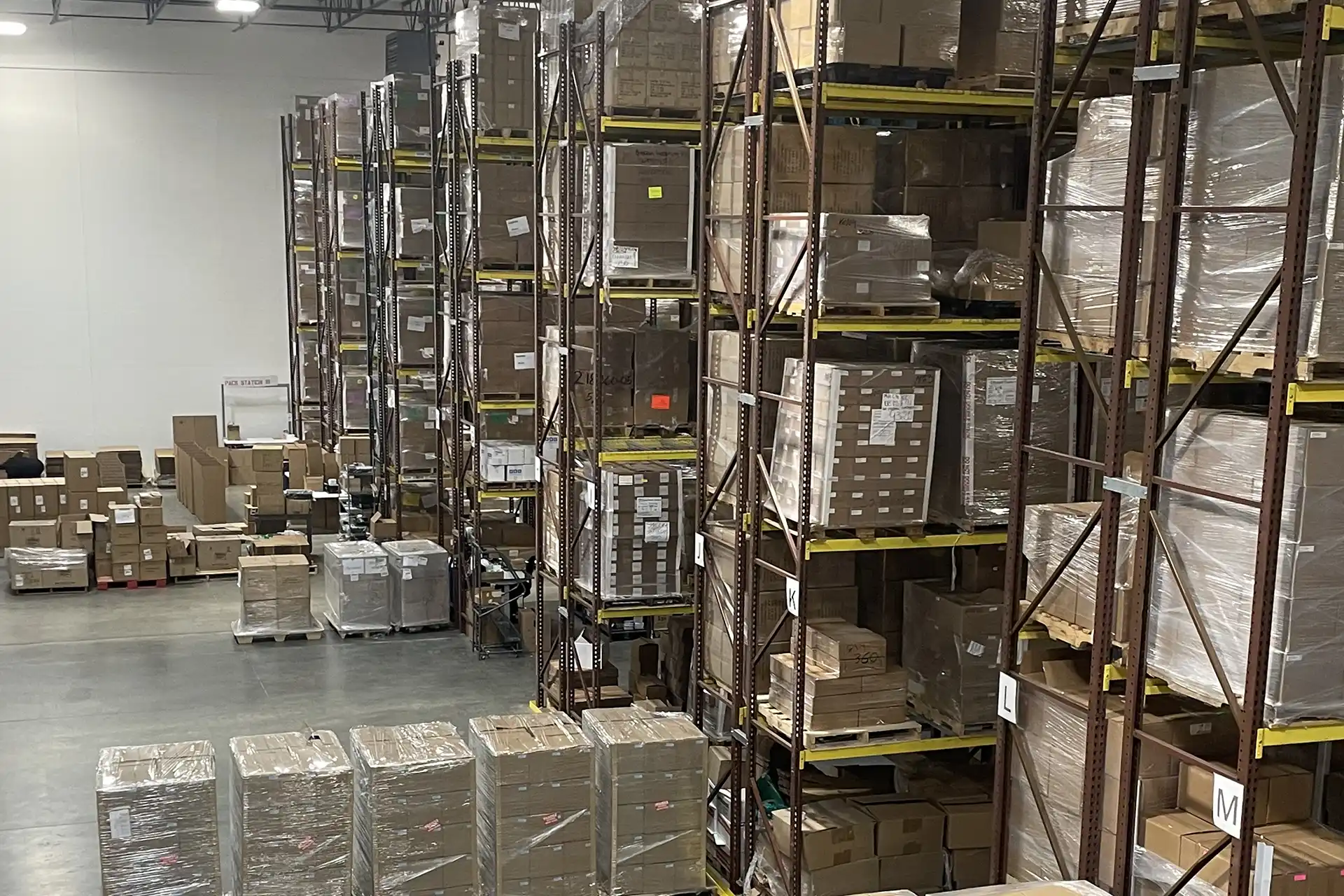 #4. Shipping the Products
Next, the eCommerce center mails the product to the designated customer. They use a tracking system to ensure the timeliness of all packages and detect issues. 
At Your Logistics Corp, we work with many mail carriers, including: 
USPS

 

UPS

 

FedEx

 

DHL

 

Shippo

 

WebShipper

 
The last step is verification. You can't assume that every package arrives at the right customer as soon as it's in the process of delivery. Verifying that the customer received the package at the correct location and in good condition is an essential step in quality customer service. 
Top 5 Benefits of 3PL eCommerce order fulfillment Center
Changing your order fulfillment system to involve a third party is a big change. What are the benefits you'll gain?
A good center saves you money on in-house fulfillment service and gives you more time to focus on your products and customers. 
Still not convinced? Consider the top benefits of using a third-party logistics center.
Changing your order fulfillment system to involve a third party is a big change. What are the benefits you'll gain?
A good center saves you money on in-house fulfillment service and gives you more time to focus on your products and customers. 
Still not convinced? Consider the top benefits of using a third-party logistics center.
#1. Minimizes Time-Consuming Paperwork
When you're completing your own eCommerce order fulfillment, you and your workers must spend time on tedious inventory tasks, manual paperwork, and data entry. When you work with an eCommerce fulfillment company, the warehouse software systems take on a lot of that work, so you don't have to worry about it. 
#2. Scanning Technology Increases Efficiency
Centers use advanced scanning technology. This further decreases the amount of paperwork for workers and makes the entire fulfillment process faster without sacrificing quality. Your customers will appreciate the prompt delivery, and workers will appreciate the ease of fulfillment. 
#3. Quality Order Fulfillment Service Drives Revenue
When you can promise more efficient shipping, you'll attract more customers. Quality certainly matters, but so does time. If customers need to choose between two products: one that ships the next day, and one that takes seven days, they'll choose speed. 
With an eCommerce center, you can: 
Decrease shopping cart abandonment rates 

 

Save on shipping costs

 

Increase individual order value

 
#4. Maximizes Inventory Control
When customers purchase something online, they expect it to arrive within the period your site originally promised. When orders are delayed, it usually comes down to an inventory issue. 
Many centers use technology that gives automatic inventory updates. With this technology, there are no surprise shortages. You'll always know what you have in stock and when you're running low. This is especially helpful during sales and seasonal peaks. Your third-party logistics center can manage supply chain disruptions and spikes of orders and keep shipping out orders on time. 
#5. Order Tracking Is More Accurate and Efficient
Providing real-time order tracking updates keeps your customers satisfied. When order delays inevitably happen, customers are much more likely to understand if they can track the package and know when to expect it.  
e-commerce centers use tracking technology such as: 
RFID and barcode scanning 

 

State-of-the-art tracking software

 
Using modern technology, your center can easily verify when a customer receives their order, ensuring the satisfaction of each client. Accurate order tracking also helps identify any recurring issues in the shipping process so you can correct them. 
Inventory Management and Stock Levels With 3PL eCommerce fulfillment service
Are you currently taking on all inventory management on your own? Many businesses can do this when they're first starting, but the more your business grows, the harder it will be.
As your demand grows, so does your inventory, and the more complex your services become. If you or your workers don't have the time and experience to properly manage an inventory of that size, it can lead to stock issues. 
What Is Inventory Management?
third-party logistics companies like Your Logistics Corp offer services to take on this task for you. Inventory management involves:  
Storing stock-keeping units (SKUs)

 

Monitoring SKUs

 

Reporting all SKUs

 

Ordering and reordering inventory 

 

Inventory forecasting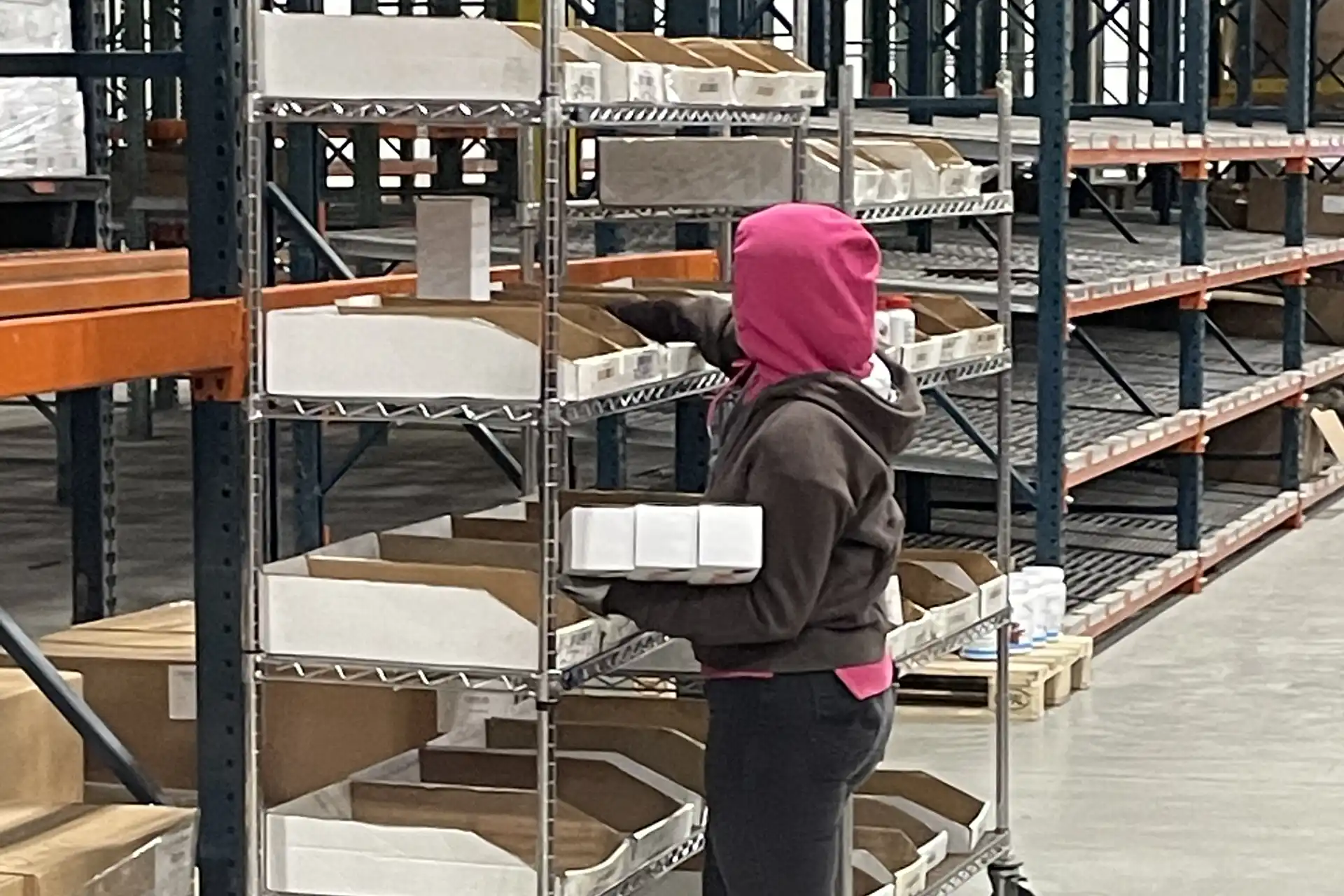 If you've been doing this work yourself, you already know how difficult it can be to juggle. You want to avoid overselling and overstocking, which requires very accurate forecasts of sales. Predicting how much of each product you need in stock also determines how much storage space you need, which factors into storage fees. 
You don't want to overpay storage costs if you aren't going to make your predicted sales. third-party logistics companies help you avoid problems like that. By letting experts handle inventory management, you have one less thing on your plate and know that fulfillment service experts are handling your inventory.
This is especially beneficial when it comes to the holiday season and sales. An eCommerce fulfillment company will keep a close eye on inventory to prevent you from selling out of any products, ultimately maximizing your profit. 
Fulfillment providers have the technology to keep your inventory organized while providing you with real-time updates.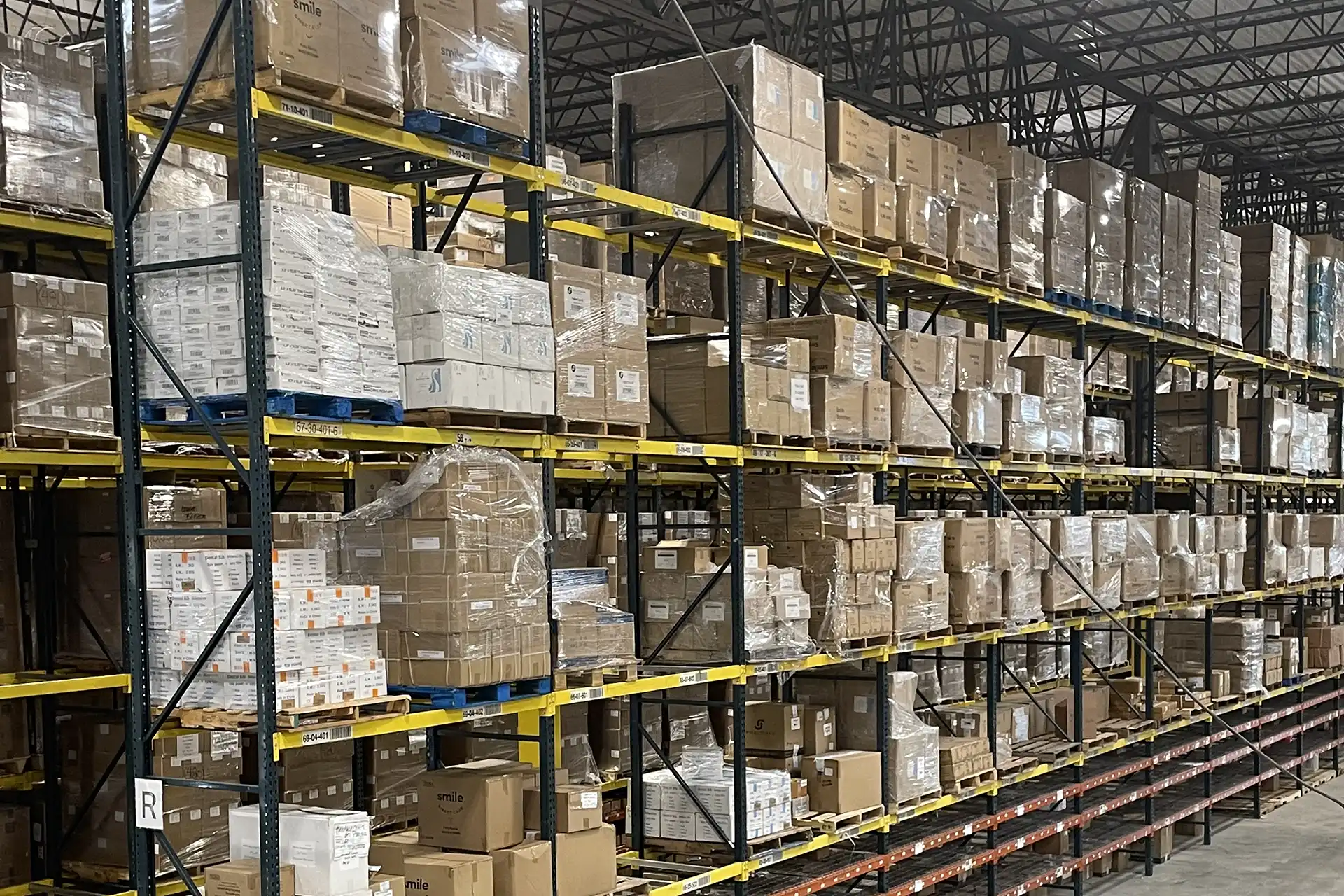 Warehousing vs eCommerce fulfillment services
You might wonder what the difference is between warehousing and eCommerce fulfillment. Warehousing and fulfillment centers both store your inventory, but they are not the same. Warehousing is an element of fulfillment services, but warehouses store products for an extended period.
Meanwhile, eCommerce centers store products with high turnover, pick them when orders come in, package them, label them, and ship them. 
Cost Difference: Why eCommerce fulfillment Solutions Are Worth the Price 
Warehouses are best if you have a back stock of items, as they'll charge less for storage. 
eCommerce centers, on the other hand, charge a higher fee but offer comprehensive pick, pack, and ship services. At Your Logistics Corp, we offer both warehousing and eCommerce fulfillment solutions. 
How Can an eCommerce Shipping Company Help?
A good 3PL company will take all of your fulfillment worries off your hands - Meet Your Logistics.
It all starts with organized, state-of-the-art warehouses that are strategically placed around the country. We store our clients' goods safely and securely on shelves or pallets within our warehouses for fast, accurate distribution on demand.
When an order is placed, our Dallas, Las Vegas, Lewisville and Hagerstown fulfillment centers use the most advanced technology available to streamline eCommerce order fulfillment and get products into customers' hands as quickly as possible. We do all the heavy lifting, allowing you to focus on other business matters.
Here are just a few of the additional benefits of using us as your third-party logistics partner for eComm fulfillment.
Integrating 3PL Provider With Your Platform's Order Management System 
Working with a third-party logistics center makes your management more efficient.
eCommerce centers prioritize the smooth integration of third-party logistics providers with your platform's existing management system. You're likely already accustomed to receiving and filling orders a specific way, and you may have a loyal customer base that's used to your methods. 
The goal of eCommerce centers isn't to erase all of your hard work but to work with it as a foundation and make it more time and cost-efficient. It is a long process involving: 
Receiving the order request through your order management system (OMS)

 

Picking the order at the warehouse

 

Packing the order

 

Shipping the order to the customer promptly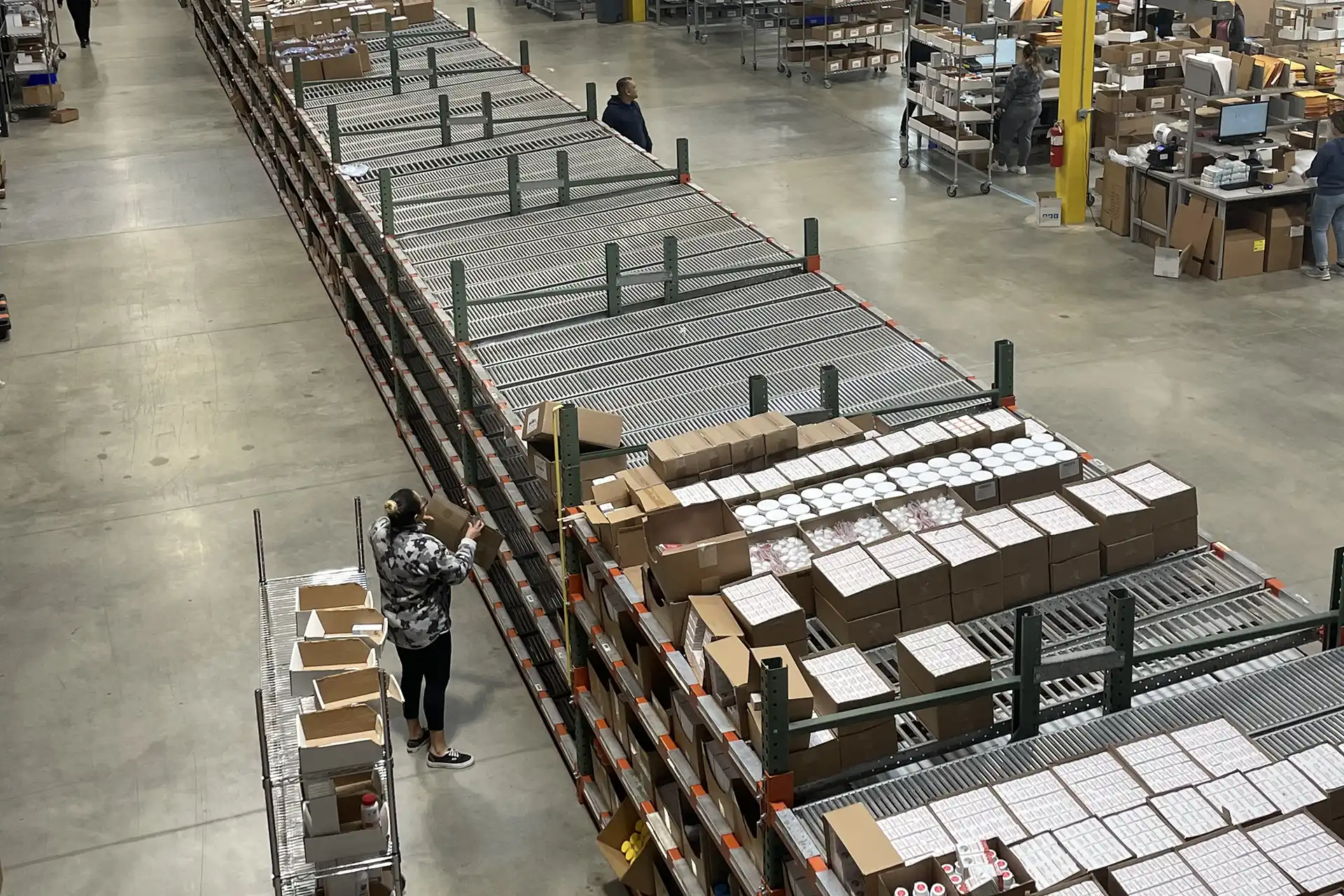 Smooth Integration
Third-party logistics eCommerce centers integrate their software with your OMS to manage these tasks more efficiently. A 3PL system does all the background work of organizing logistics and supply chain information while verifying that orders are proceeding through the processing, picking, and shipping stages on time.  
You might think that working with a third party means giving up control, but that's not the case! You can track incoming and in-progress orders and verify delivery in real time.  
When you integrate your OMS with a third-party logistics system, you can synchronize inventory data. Instead of having to worry about user errors when your team does manual data entry, you can ensure that inventory information is consistent across all of your platforms and software.  
When a third-party logistics system streamlines the management process, your customers can receive their orders quickly. This gives you an advantage against your competitors and leaves customers more satisfied — which means good reviews and repeat business from loyal customers. 
Multichannel Integration
Multichannel integration refers to how well a third-party logistics provider integrates its fulfillment services with major platforms outside of your website.  
At Your Logistics Corp, we integrate with management systems including: 
Shopify

 

Amazon

 

WooCommerce

 

Etsy

 

BigCommerce

 

Magento

 

Amazon

 

Ebay

 

Walmart

 
The more channels you have for sales, the more revenue you can bring in.  
Your fulfillment service provider should be able to confidently guarantee that their system's integration with yours is seamless and offers benefits, including:  
An intuitive platform that allows you to easily navigate through all order information in one place 

 

Increased data transparency 

 

Increased efficiency of order filling

 

Multi-channel integration opportunities 

 

Reliable package tracking software 

 
As your eCommerce center, Your Logistics Corp makes integration a solution rather than a problem. 
Efficient Picking, Packing, and Shipping with 3PL eCommerce Providers
Back when you started your business, before you grew a customer base, you could probably package and ship products yourself, ensuring the quality of each order. However, as your business grows, this becomes unrealistic. Even hiring workers and packing and shipping in-house can be overwhelming. 
Third-Party Logistics Order Fulfillment: Picking, Packing, and Shipping Made Easy
With a third-party logistics eCommerce provider, you can minimize or even eliminate some of these costs. A provider will assist with all aspects of order fulfillment services, including: 
Storing inventory

Processing orders

Picking orders

Packaging orders

Inserting packing slips

Shipping packages on time
The process begins when a customer places an order, which notifies the third-party logistics provider's system. This will trigger the picking process, in which a worker or automated system identifies the requested item at the warehouse. 
Next, they will pack the order depending on the specifications you provide. Most third-party logistics centers have generic shipping materials you can default to or customize your packages with branded boxes, packing materials, or stickers. Finally, the center will determine what the most cost-effective method of shipping is for that order. 
The technology used automates much of this process, which makes it more efficient. They will get your products into the hands of your customers as quickly as possible. 
Finally, this option can be more cost-effective. third-party logistics providers have the resources to negotiate with major shipping companies for discounted rates. Shipping orders in bulk can also result in reduced shipping fees. 
Customized Packaging and Branding
Some eCommerce businesses opt for unique packaging to help them stand out from their competitors and reward their customers for shopping with them. 
Don't worry — Fulfillment can accommodate any of your requests. You can customize your packaging with unique labels, notes, or gifts.
You should maintain control over packaging, even though you are no longer the one doing it. You can provide the third-party logistics provider with a blueprint to follow for every package it sends out.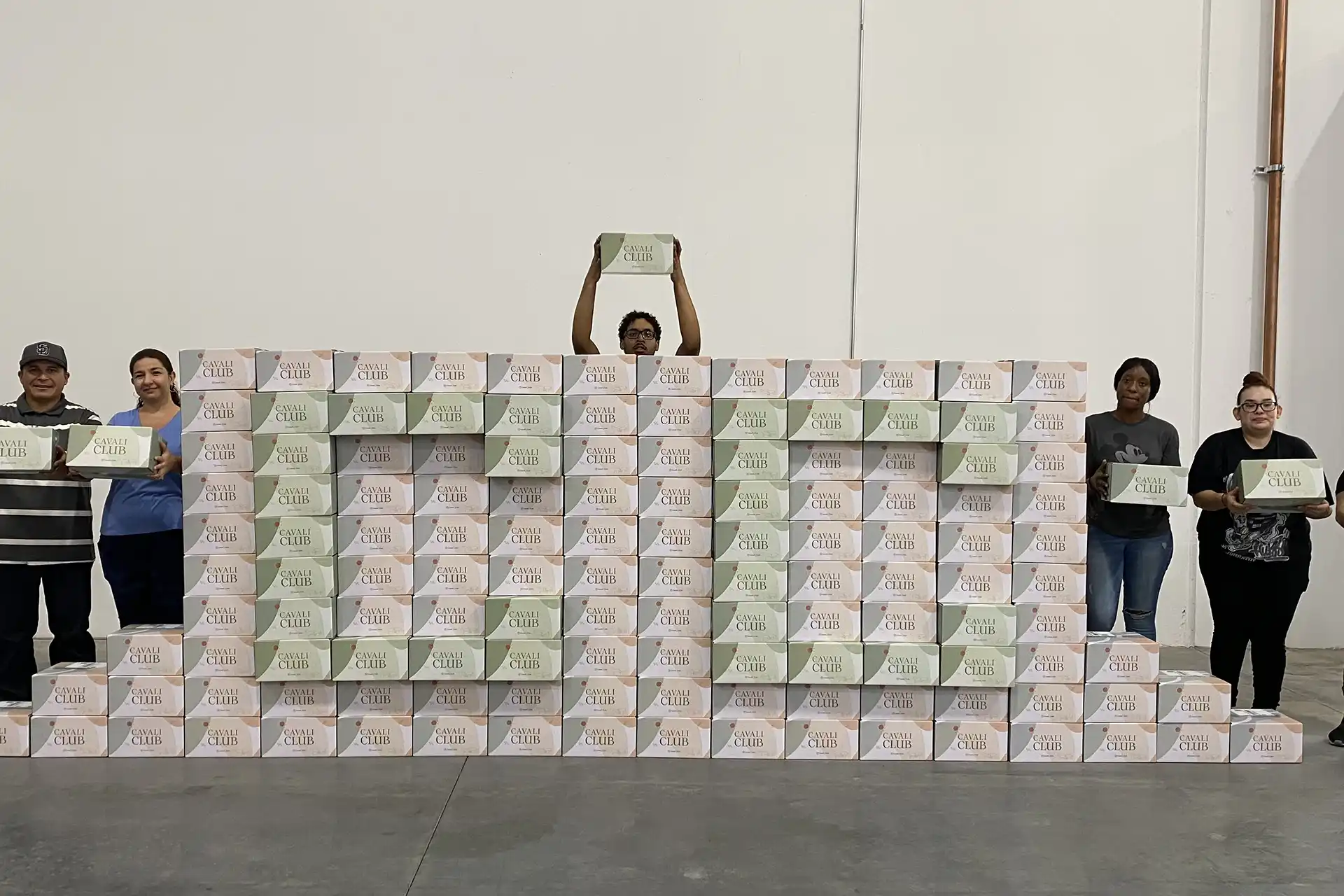 Returns and Exchanges With Third-Party Logistics eCommerce Providers
In a perfect world, you'd never have to worry about customers returning your products. Unfortunately, that's just not realistic. eCommerce sites have a much higher return rate on average than brick-and-mortar stores. 
Having a plan ahead of time for managing returns helps make the process easier for both you and your customer. 
It starts with having a return policy and coordinating this information with your third-party logistics eCommerce provider. Make sure that you choose a company that is open to communication and customization.
Reverse Logistics
While "traditional logistics" refers to the process of delivering a product to a customer, "reverse logistics" is the opposite — having a plan for handling returns. Reverse logistics involves: 
Receiving and processing returns

Providing refunds

Assessing returned items

Providing any necessary customer support 
For example, if you run a jewelry eCommerce business and receive a bracelet return, reverse logistics would provide a map for how to handle that return. You can specify how to communicate with the customer, how to process the refund, and how to refurbish or replace the item to satisfy the customer.
These centers oversee the reverse logistics process to ensure it runs smoothly, then prepare returned items for resale as quickly as possible. They may even offer benefits like:
Prepaid return labels

Integrations that provide customers with return and refund updates

Giving you return tracking information
Reverse logistics are especially important in specific industries. Apparel, for example, has one of the highest rates of returns in eCommerce businesses. This is because customers can't try the clothes on before their purchase. They will either return or exchange the item for another size.
Similarly, technology products may see a lot of returns if users are dissatisfied with their functionality. They will return the item or ask for a replacement. Working with a tech-savvy eCommerce center will help you navigate these issues.
All industries should prepare for an increase in returns around the holidays. Your third-party logistics provider should work with you to create a plan specific to that time of year. 
Having efficient reverse logistics comes with many benefits. It saves you time and money by streamlining the returns process through your center. The faster the return, the more satisfied your customer will be. Even though they aren't keeping the item they returned, they may come back to your site if they recall your prompt customer service. 
third-party logistics providers help you with returns as part of your services, but they can also help you prevent them. Of course, returns are sometimes unavoidable. However, you can limit them by coordinating with your fulfillment company by 1) analyzing returns, and 2) upholding quality control.
Analyzing Returns
You can include a return form as part of your reverse logistics. Providing a drop-down menu of options or an open-ended comment box gives your customers space to explain why they're making the return. This gives your customers a voice while providing you with vital information.
If you see a pattern in returns, whether it be a certain product or similar reasoning among customers, you can have your third-party logistics center adjust your product accordingly. This will ultimately help prevent future returns. 
Quality Control
If you analyze your returns data and see a pattern of damages, you may need to reconsider your quality standards. Establishing a consistent standard for your third-party logistics provider to follow as they assess inventory helps prevent these errors in the future.
Making the Decision: Are Third-Party Logistics Services Right for You?
How do you decide that it's time to partner with a fulfillment center?
You might think that you're better off filling orders in-house to avoid involving a third party in a system that is already working well enough. But why settle for "well enough" when a third-party logistics provider can transform your order fulfillment system?
With an center, you have an entire center of workers focused solely on order fulfillment process. Instead of juggling it as one of your many tasks, a third-party logistics provider can optimize the quality of your packing and shipping because that's all it has to focus on.
When you're deciding if you want to partner with a third-party logistics center, there are several factors to consider. 
Order Volume
How many orders are you receiving a day? Do you find yourself or your employees struggling to fill your high volume of orders? 
Do you expect sales to continue to grow?
If so, it's time to look for third-party help. Taking on high volumes of orders can result in unnecessary stress on your part and dissatisfaction on your customers'. Choosing a third-party logistics provider will alleviate this stress and keep you and your customers happy.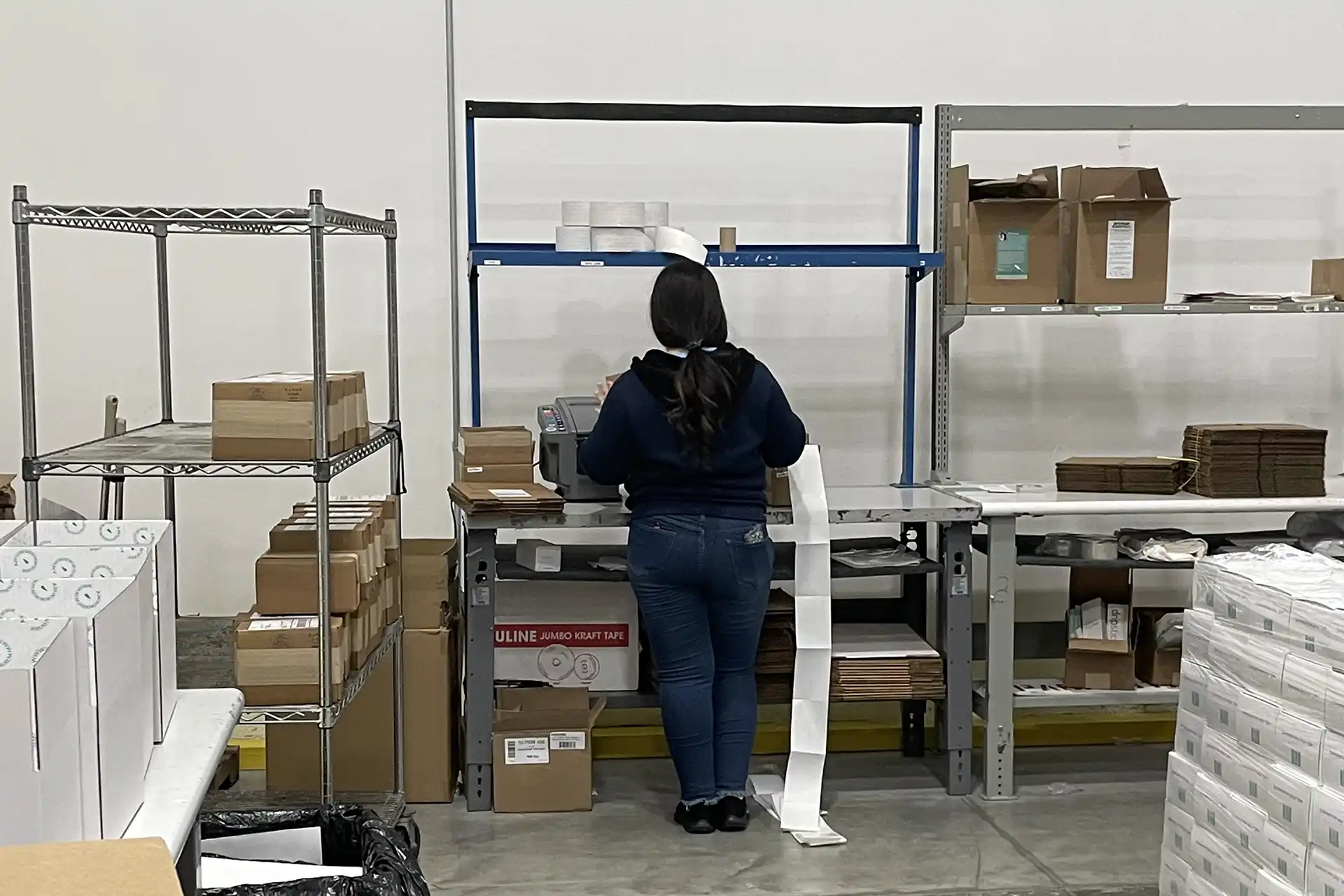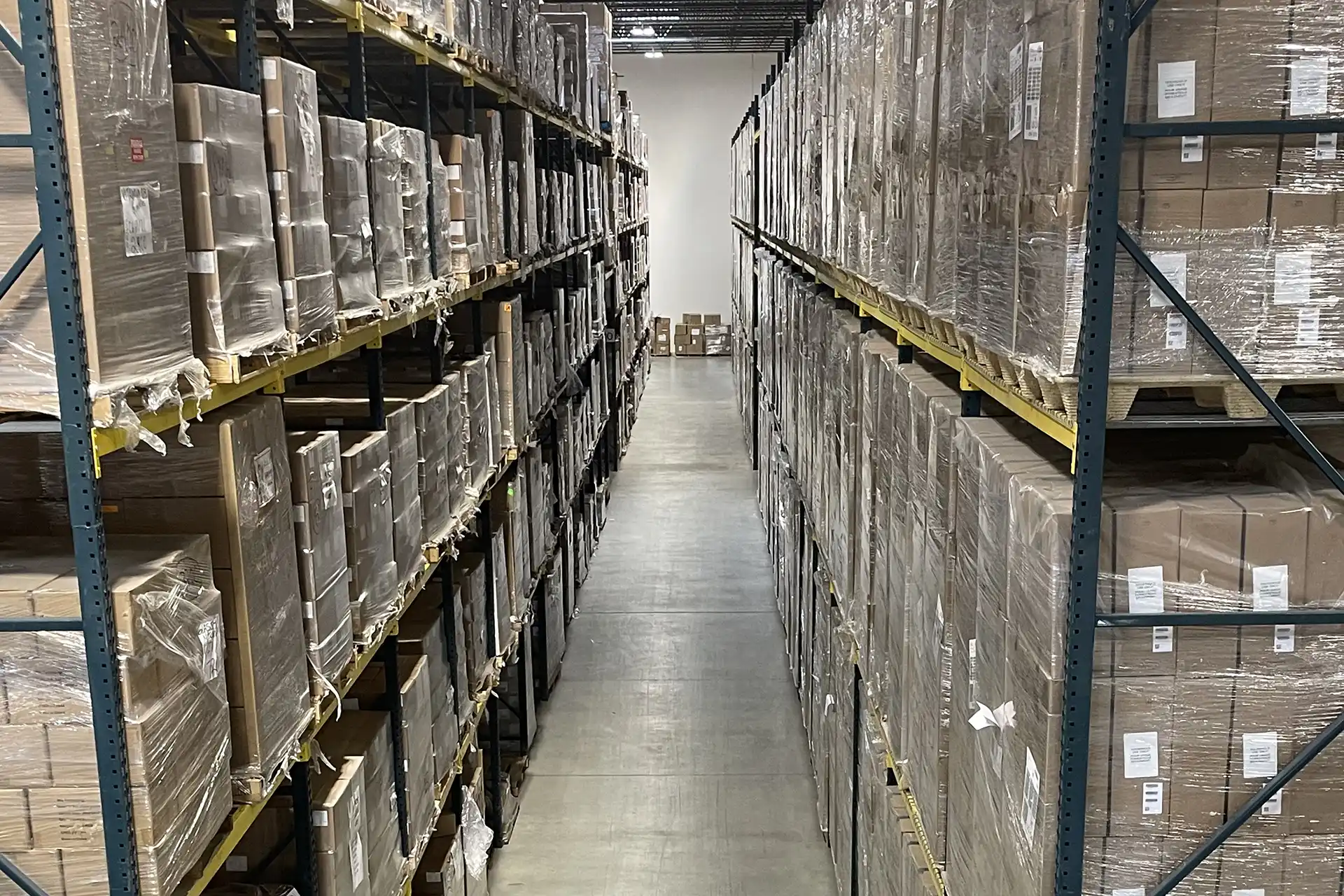 Storage Space
Take a look at how much you're currently spending on storage. Then, compare it to the cost of your ideal center. Are you better off bundling storage costs with order fulfillment? 
Your Vision 
If you're looking into centers, your business is likely already successful. So, what's next? What do you envision for your business? 
If you're happy with where you're at and want to streamline your current process, third-party logistics services are the answer. If you want to expand your operations, or even go international, Our centers can help you with that, too.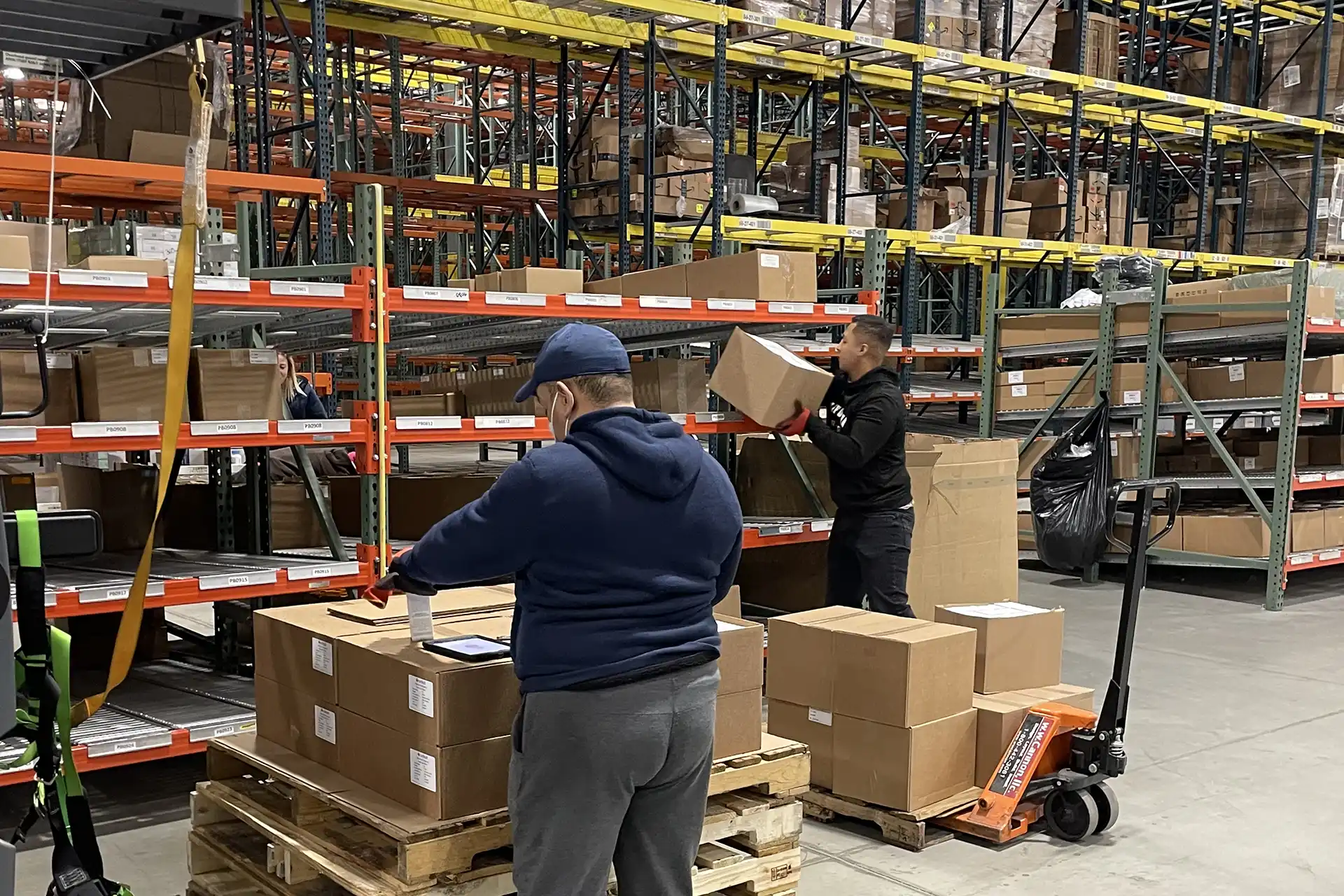 Consider Your Other Fulfillment Options
If you decide to not work with a third-party logistics provider, you have two other options: 
Self-fulfillment

Fulfillment by Amazon (also called Amazon FBA)
Self-fulfillment means you continue doing all of this work yourself. If this is sustainable, it's a perfectly viable option. If you have an interest in fulfillment logistics, this could be a good option for you. 
Amazon FBA is another popular choice for fulfillment and shipping — but only for items you sell on your Amazon storefront. However, they do have a much higher fulfillment fee than many third-party logistics centers. 
Choosing The Best eCommerce Fulfillment Service
The decision-making process isn't over yet. Once you settle on working with a center, you need to decide which one is best for your business. 
Consider the type of fulfillment company you want, your expectations for communication, expectations for logistics operations, and the specifics of your desired delivery service. 
Types of eCommerce Fulfillment Centers
The primary types of fulfillment centers include: 
Full-service

Warehousing- focused

Transportation or financial-based
The full-service fulfillment centers, as their name suggests, provide everything from inventory management to integration to order fulfillment and returns processing.
third-party logistics warehousing fulfillment company's focus on storage and shipment. If you're looking to go international with your business, you'll likely need more than one warehouse.
Transportation-based third-party logistics act as the middleman, shuttling products from one location to another. 
This may involve transporting a return from your warehouse to your store, for example. Similarly, financial-based third-party logistics complete the tasks of a standard fulfillment company, but with a focus on tracking your revenue and losses. This is a good option for businesses that are growing quickly and may not be able to handle their finances alone. 
Best Fulfillment Companies 
Doing your research when you're considering a third-party logistics provider is essential. Pay attention to reputations and reviews. Some of the best third-party logistics companies for fulfillment services include: 
Your Logistics Corp

Deliverr

Falcon Fulfillment

ShipBob

Red Stag Fulfillment

ShipNetwork

ShipMonk

Ryder E-Commerce by Whiplash

Simpl Fulfillment

WhiteBox

Sprocket Express
Logistics and Communication 
Once you narrow down your list of centers, don't be afraid to ask questions to choose the right company for your needs. Some logistical questions could include: 
Where are your warehouses located, and how many do you operate?

How do you process next-day orders?

What industries do you typically specialize in?

How many orders do you ship a month?

How do you handle reverse logistics?
You should always set expectations for communication early on. Especially at the start of your partnership, keep the lines of communication open. It benefits both of you to smooth out any issues as soon as they arise. 
Talk with your third-party logistics fulfillment provider about how you can best communicate about orders, returns, inventory, and shipping notices.
You should also ask questions about their delivery service to ensure it aligns with what you want. For example, do they compensate for delays? How do they refund customers for returned items? What happens if items are broken or lost? Can the provider offer customized packaging and branding options to enhance the customer experience?
At Your Logistics Corp, we put your logistics needs first. We integrate with many order management systems, use streamlined pick, pack, and ship processes, and integrate state-of-the-art scan and track technology to manage your inventory and make sure your customers receive their items on time. 
How Much Do eCommerce Providers Cost? Factors to Consider
Partnering with an center involves fees for inventory management, packing, and shipping in exchange for convenient service and comprehensive management of your online store fulfillment.
One factor you may not think about is location. While a fulfillment center in a more rural area may be cheaper upfront, you might end up paying more in shipment costs over time. Consider where your clients are and your nearby shipping zones. 
At Your Logistics Corp, we have centers in Dallas, Las Vegas, Lewisville and Hagerstown to meet your shipping needs wherever you are.
Onboarding fees are a common upfront cost that supports the start of the fulfillment needs. Another fee you will come across before the third-party logistics provider can begin shipping out orders is inventory receiving fees.
You might pay inventory receiving fees by:
Unit
Per-pallet
Per-hour
Flat rate
Once all of your inventory is in storage, you'll pay storage fees per SKU or per unit. As the center fills orders, you'll pay a pick-and-packaging fee. If a provider charges you per pick, you pay a fee for every item in each order.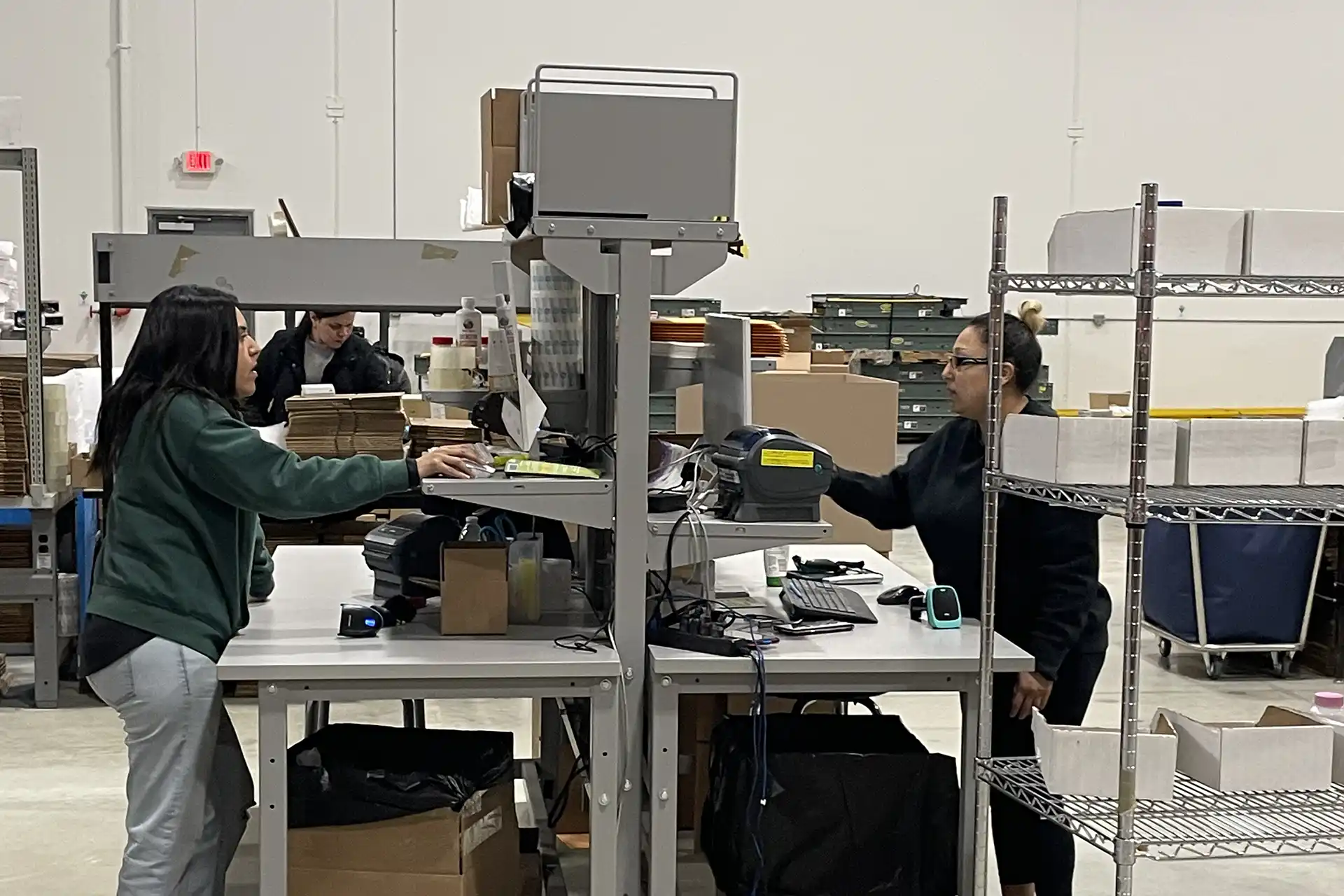 Finally, you pay a shipping fee to ensure your customers receive their orders on time. However, compared to the costs of managing your own warehouse, staff, processes for picking, packing, and shipping, and other concerns, third-party logistics fulfillment centers pay off in the long run and offer unmatched convenience. 
In-House Order Fulfillment vs. 3PL Fulfilment: Why Outsource to a eCommerce Service?
Aside from the time it takes, there are a lot of financial costs that come with handling order fulfillment in-house: 
Packing supplies like tape, bubble wrap, air pillows, labels, ink, and printers

Transportation costs

Increased shipping costs

Possibility of incomplete orders and needing to provide refunds for unhappy customers
Fulfill Your Business's Potential With Your Logistics 
If you're ready to begin your journey with the best eCommerce fulfillment, Choose Your Logistics Corp. We're the best third-party logistics for eCommerce businesses who want a client-first approach. We treat every client with an individualized approach. We prioritize quality communication and quality services. 
We want to grow with you and help your business reach its maximum potential. We have a network of  fulfillment centers across Dallas, Las Vegas, Lewisville and Hagerstown. Contact us at (214) 894-8286 today for a free quote.
Frequently Asked Questions